Tyler O'Hara recaptured his King of the Baggers title in 2022 riding an Indian Challenger.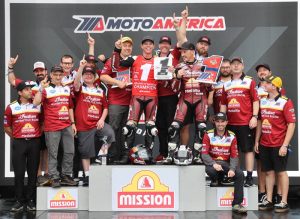 The final round of the 2022 King of the Baggers (KOTB) was held in rain-soaked conditions on the track at New Jersey Motorsports Park, where riders battled it out for the highly regarded US title.
This seven-round series between heavy-duty baggers is fiercely competitive, making for spectacular viewing. Tyler O'Hara handled himself superbly under the difficult conditions of the final, and was rewarded with a second-place finish, his second behind the handlebars of the Challenger after his 2020 podium win.
O'Hara's 2022 championship run was a picture of consistency throughout the seven-round series. The California native captured five podium finishes over seven rounds, including a victory at the Daytona Speedway season opener, along with two fourth-place finishes aboard his ever-reliable Mission® Foods S&S® Indian Challenger. To win this year's closely fought championship, O'Hara beat Travis Wyman, who entered the series' final round on an HD Screaming Eagle and with a three-point lead. O'Hara thrives in wet conditions and Wyman had to take risks to keep pace, as he frantically chased his rival around the rain-soaked circuit. With the track so slippery and treacherous, Wyman saw his hopes slip away when he crashed out. O'Hara finished second, giving him enough points to secure his second KOTB title.
Moto GP veteran Jeremy McWilliams joined the Indian Motorcycle-S&S team at the start of the 2022 season, also riding a Challenger alongside Tyler O'Hara. He ended the season with a fourth-place finish overall.
"Even though it's one rider that earns the Championship, this was a situation where the support from Jeremy (McWilliams) and our ability to work together made all the difference, and I could not be more grateful for his support and the tireless work of my entire Indian Motorcycle-S&S team," said O'Hara. "Every member of this team sacrificed so much of themselves over this past year and to stand on that podium and celebrate this Championship with them is a testament to our commitment and nothing short of a dream come true. I'm so proud to reclaim the crown and the number-one plate for such an incredible and talented group of guys who put their hearts and souls into this season."
Gary Gray, Vice President, Racing, Service & Technology for Indian Motorcycle, adds: "Along with a virtually unmatched level of experience and skill that resulted in a Round Two victory at Daytona and a fourth-place finish overall, Jeremy McWilliams's technical input throughout the season helped the Indian Motorcycle-S&S engineers and mechanics to advance the design of the Indian Challenger."
Final ranking
MotoAmerica King Of The Baggers 2022 :
1 Tyler O'Hara - Indian Motorcycle - 123 pts
2 Travis Wyman - HD - 113 pts
3 Kyle Wyman - HD - 111 pts
4 Jeremy McWilliams - Indian Motorcycle - 91 pts
5 Bobby Fong - Indian Motorcycle - 70 pts
6 James Rispoli - HD - 70 pts
7 Taylor Knapp - HD - 61 pts
8 Andrew Lee - HD - 35 pts
9 Frankie Garcia - Indian Motorcycle - 30 pts
10 Michael Barnes - HD - 29 pts