Over a century ago when renowned Czech architect Pavel Janek put down the cobblestones of Ottokar II Square in Budweis' historic centre, he could never have imagined that one day in June 2022, upwards of 1,200 Indian Motorcycles would converge in his perfectly designed square, hailing from right across Europe and representing 37 nationalities.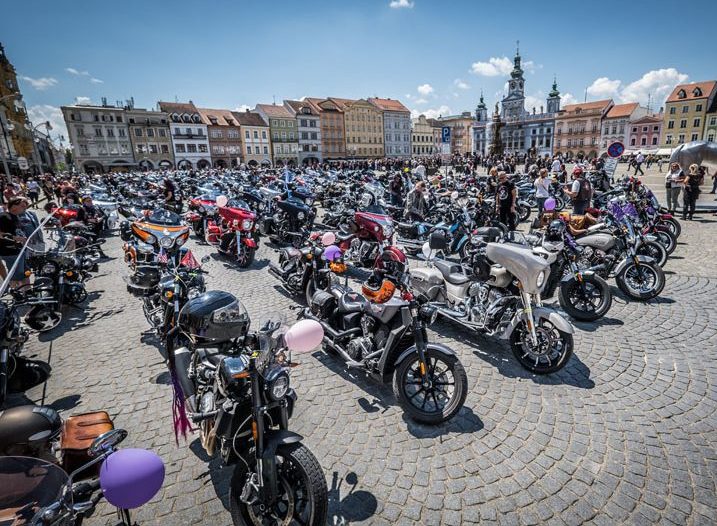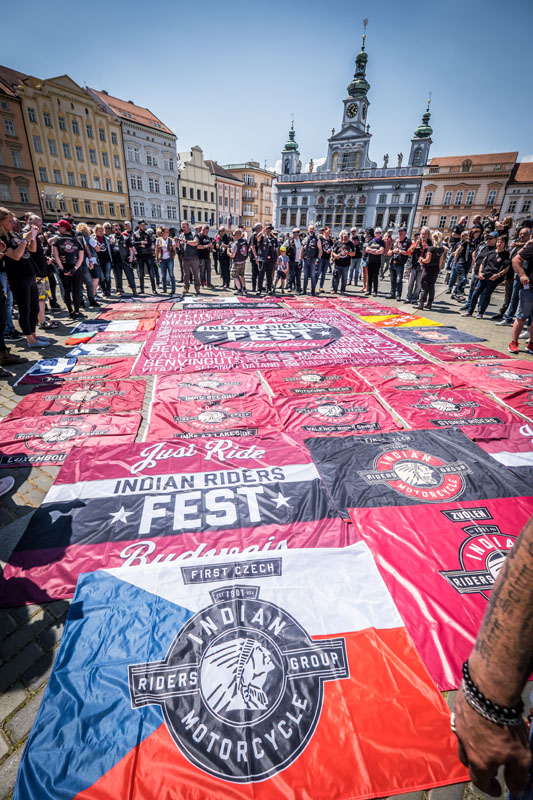 And yet this was the impressive sight that the whole town bore witness to when the owners of these gleaming machines, after a parade of Indian Motorcycles stretching for more than 20 kilometres, came together in the square and turned their engines off.
As the engines fell silent, the riders all climbed off their bikes to gather in the middle and admire this amazing geometrical formation. People from different groups and countries were hugging each other, spreading out their various flags and colours on the ground, and recording it all on camera for posterity.
This symbolic moment was the climax of the 3-day Indian Riders Fest, Europe's annual gathering of Indian Motorcycles in Budweis, the capital of southern Bohemia in the Czech Republic.
The triumphal event came down to the dedication of a keen band of enthusiasts in the First Czech IMRG, led by Jean-Marie, who organised this incredible occasion that reverberated all the way across the pond to the brand's American HQ in Minnesota.
The first ever Indian Riders Fest was held in 2019 and after an enforced two-year break, the second festival was nothing short of phenomenal. This much bigger site offered more activities and vendors' stalls, with a packed program including stunt shows and professional rodeo riders, loads of musical performances, a complete fleet of Indian Motorcycle models available for test rides, and a vintage motorbike display. Showcasing the finest Indian Motorcycle custom bikes, the unmissable "Best in Show" competition was won by the likes of Indian Motorcycle Pfaffenhofen/Iwan-Bikes, Fred Duban alias "DUB" Indian Motorcycle Pisek/VMP, and that lucky owner who'd come down from Strasbourg with his incredible Bagger.
On Saturday night the raffle with its amazing prizes was finally drawn, putting an end to the agonising wait. When the winning number was called in front of a massive crowd, it belonged to a French rider from Brittany. His prize – a superb customised Indian Chieftain Limited – was waiting for him up on the stage.
LOOKING FORWARD TO SEEING YOU IN 2023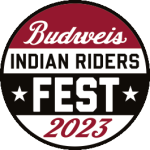 The third Indian Riders Fest will be held in Budweis again on 9, 10 and 11 June 2023, with even bigger capacity and a more fantastic program of events. Join hundreds of other Indian Motorcycle owners from all over Europe for an unforgettable weekend that will go down in the history of your favourite bike brand.