You didn't choose just any old bike; you chose an Indian Motorcycle. Perhaps you found the legacy that comes with this brand irresistible; or maybe you were just looking for a ride you could really make your own.
Either way, you chose to stand out from the crowd.
We've collected your stories – complete with all their spontaneity, sincerity, enthusiasm, and heartfelt feelings. We received far more than we've got room for; here's a choice selection.
CLARE - NORTH UK
ROADMASTER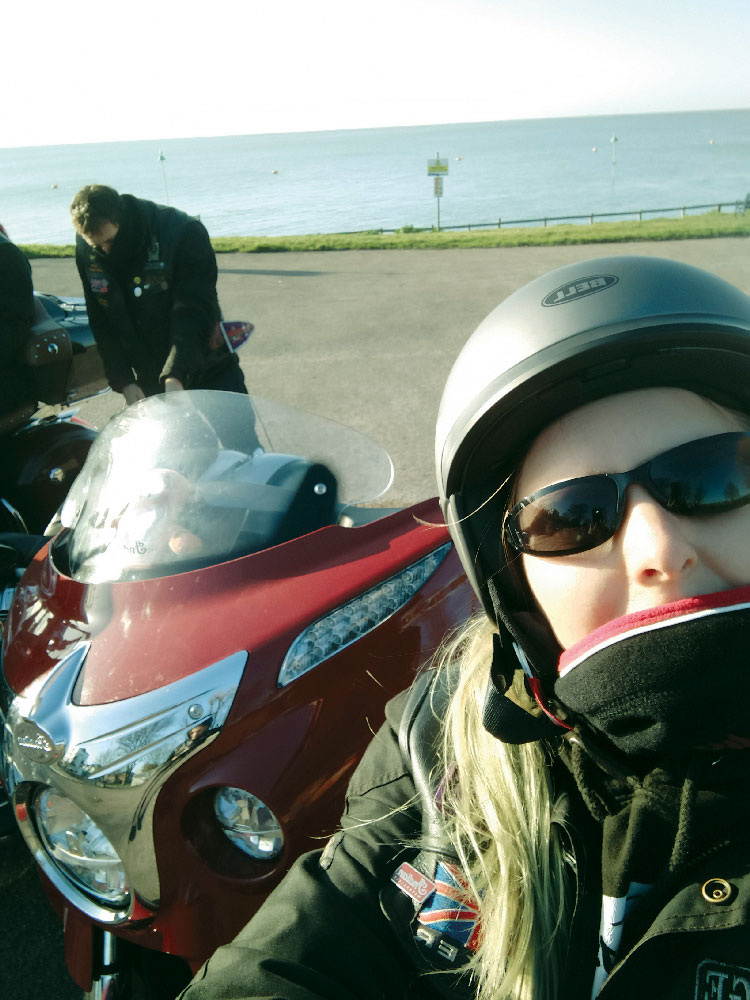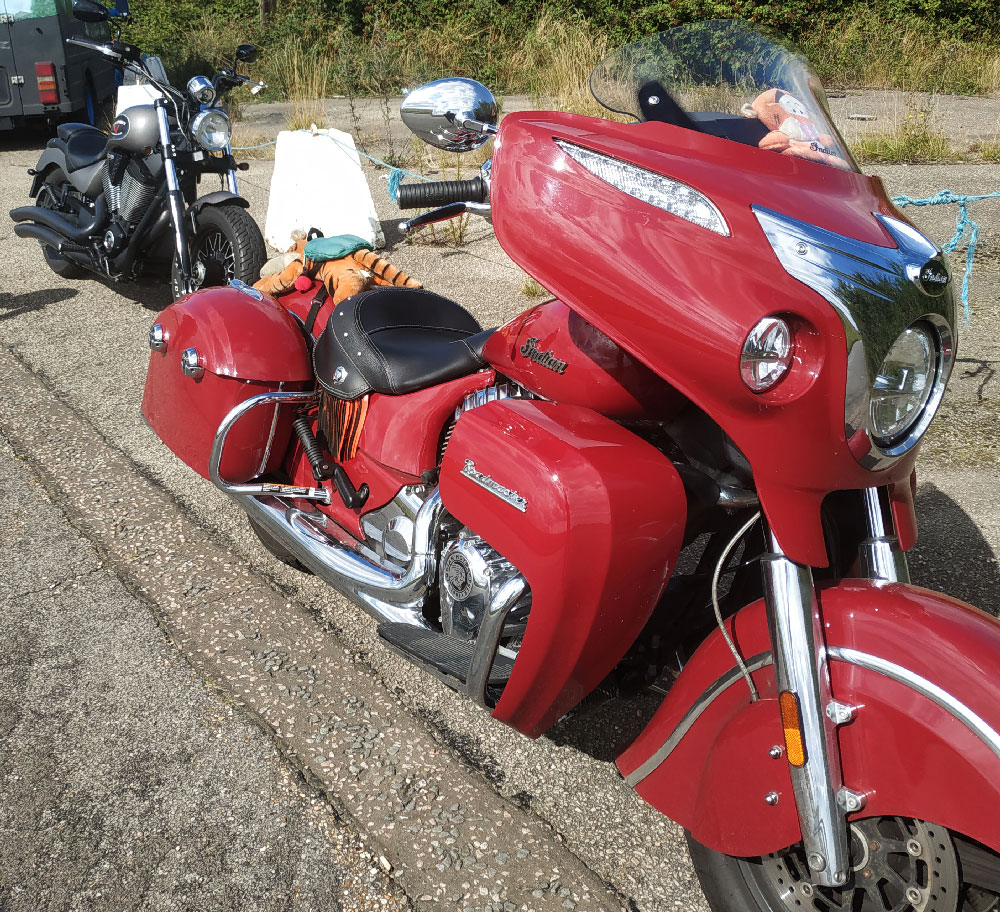 My name is Clare Smith 44yrs, 5ft 3 and I have had my bike license for about 6 years. 
My first bike after passing my test was a Victory Gunner which I road for 1yr then I went onto an Indian Roadmaster. The Tigger on the back of my bike has been with me since I passed my test.
I still have both bikes and love to ride. I also do all maintenance on my bike with the help of family
I mostly ride in a group of friends/family who have had many different bikes but now ride Indians. In all sorts of weather. We are unusual as we live in the north UK and you don't see many around.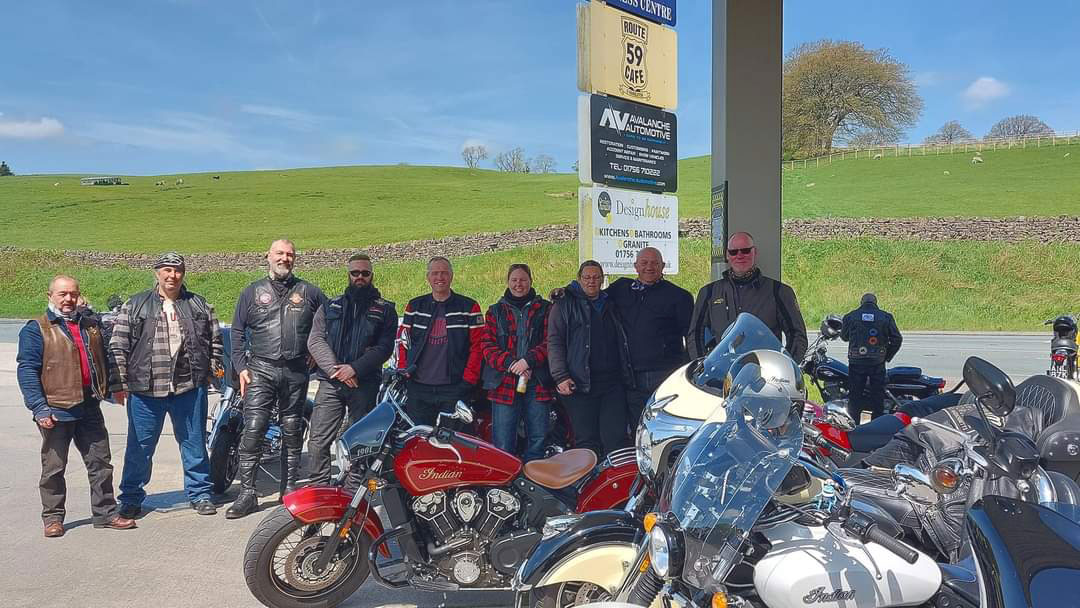 HORIA & MIHAELA - HUNGARY
SCOUT BOBBER & CHIEFTAIN LIMITED
Our names are Horia Iacob and Mihaela Birescu. Both motorcycle riders , both in love because this passion, and the kind of couple that ride toghether and stay toghether !
We are kind of nomads born in Romania living in Hungary... yeah i know ... So since we got toghether we rode allover Europe and now we ride Indians. My wife has a 2018 Scout bobber and I ride a 2019 Chieftain limited.
This bikes are somehow our viagra ...lol....yes because we go 50's golden era... So...we adjust our happy days around this two ponys... We enjoy them and ride them....like stolen property....lol. In conclusion i dont think we will ride any other brand anymore cause Indian is our guilty pleasure.....Ride with pride ...Ride with the tribe !!!!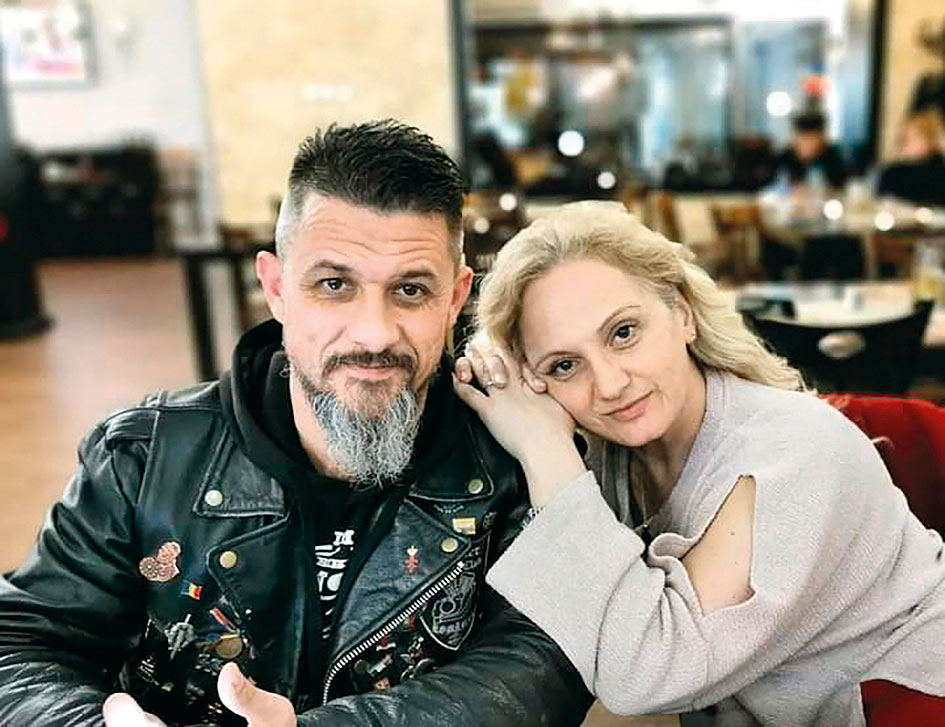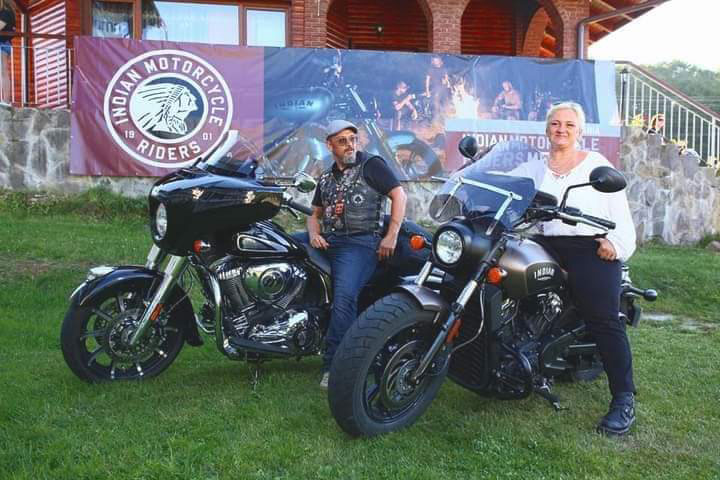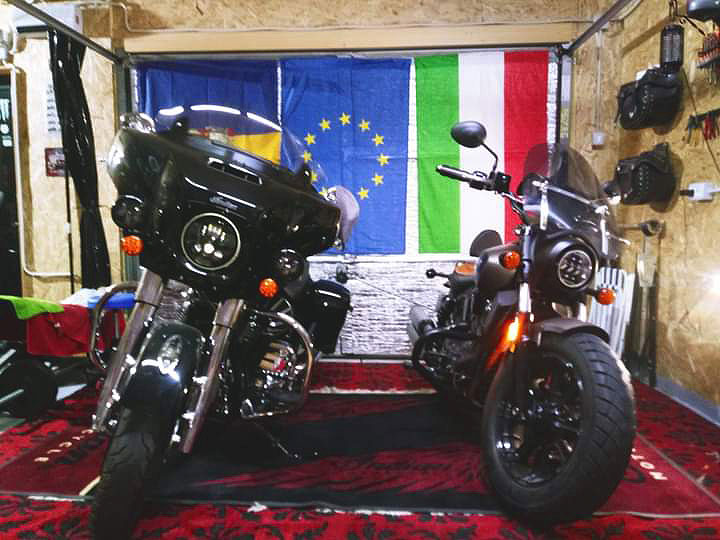 CONOR - IRELAND
SCOUT SIXTY
Hi there. I am a new rider my first ever bike was a 2019 Indian scout sixty.  My best friend and I were born a day apart and had never known each others dream bike was an Indian Scout. When we turned 30 we discussed buying a motorcycle and found out we both wanted to buy a Scout. We went to the Indian dealership Franklin's in Dublin and each purchased a bike. Unfortunately due to covid I did not get my licence until last year but we have made many treasured memories on our bikes in Ireland and I would love to meet more Indian Motorcycle owners here. In the pictures added are the day I was lucky enough to hit the famous 1901 on the odometer in recognition of the companies history. It would be an honour to be included in the magazine and and to meet more Indian owners in Ireland.
MARTIN - GRIMSBY
SPRINGFIELD
Hi there. My name's Martin, I live in Grimsby which is in the north-east of England and I've been riding Indians since 2018. I've been a biker since 1980 and switched to Indian from Triumph. Here's a few shots of my bike. My Springfield On Grimsby Dock.
PATRICK - THE NETHERLANDS
CHALLENGER LIMITED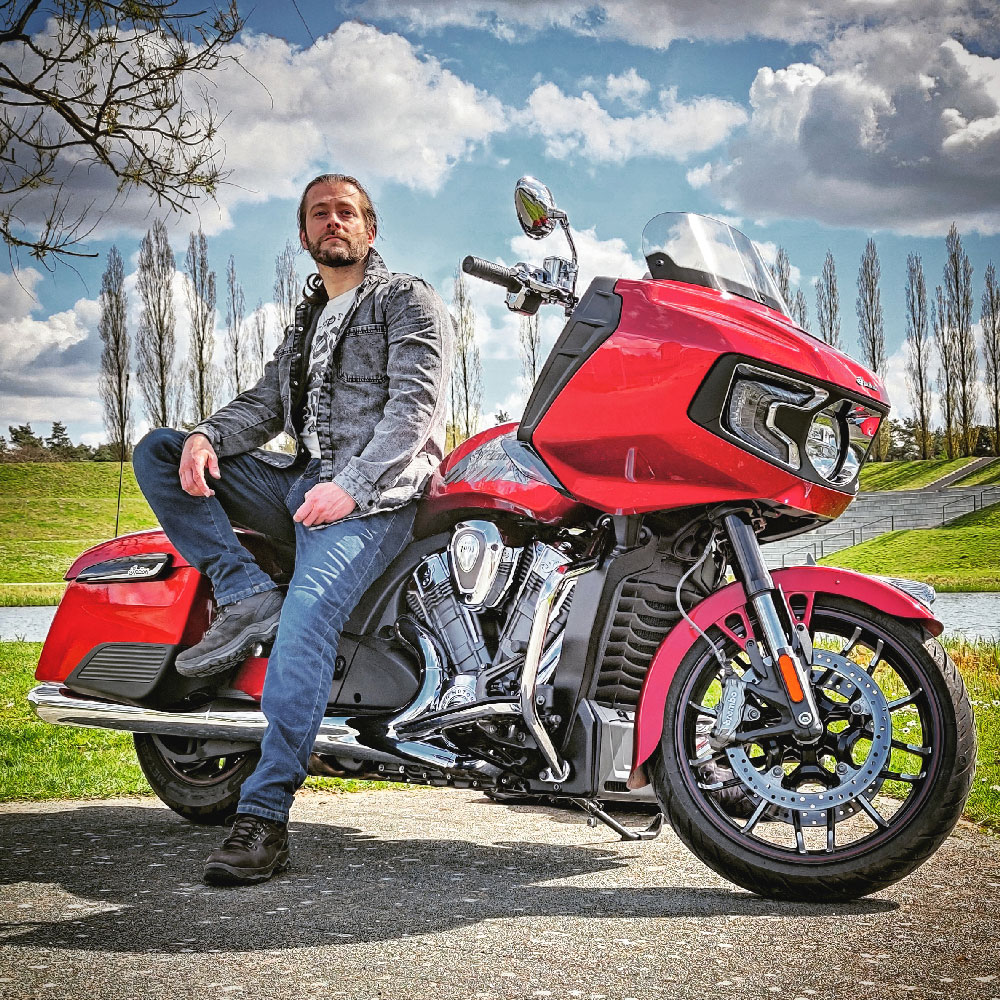 As a kid I already knew that I wanted to ride a motorcycle and told everyone that when I'm old enough, I would buy a Harley Davidson with flames on the tank. And so I did. 25 years later I bought my first motorcycle. A 2012 Stage 3 Harley Davidson Dyna Wide Glide with flames on the tank. After less then a year I knew that this motorcycle didn't suit me and my riding style. I needed something more comfortable and reliable for long distance rides, but it also had to be fun to quickly rip around on. I visited my local Indian Dealer. I test rode a new 2020 Indian Springfield Dark Horse and I was amazed by how good this big motorcycle handled and the comfort that the suspension gave me. After the test ride I bought it and I couldn't be happier. After breaking the Springfield DH in. I wanted to feel it's full potential.
I was amazed by the torque, but sometimes I missed a bit of power in the higher rev range. After bringing it to the dealer to look at a small electrical issue. I took a 2020 Chieftain limited home with me. I rode around on it for 500km. I started to notice the benefits from a fairing and the electrical windshield. That thought didn't leave me. Until my dealer had a Challenger Dark Horse demo bike. I took it for a long test ride. As of that moment I knew, this is the motorcycle for me. It has the benefits of a fairing, the electrical windshield, the same comfort as the Springfield and Chieftain. But this one also has the power that I was looking for. Loads of torque but also the power in the higher rev range. When I brought the Challenger back to the dealer. We spoke about it, made a deal and I ordered one. August 2021 I got the call from my dealer that the crate with my 2021 Ruby Red Indian Challenger Limited arrived. When I uncrated her. It was love at first sight. As of that time I never looked at getting another motorcycle again. The Challenger gives me the thrill when I need it, the comfort and reliability to go out with confidence on long distance rides with other motorcycle enthousiasts. This motorcycle changed the whole riding experience for me and opened a whole new world of possibilities. For me there is nothing else I want or need. I love my Indian Challenger. 
JACKO - FRANCE
ROADMASTER LIMITED & VICTORY FOR EVER
I started riding a 125cc motorcycle a long time ago. The cubic capacity does not make the biker, as the tens of thousands of km that I rode at its handlebars show.. It forges the spirit and the experience. My dream was to ride American. In 2007, at the Paris Motorcycle Show, on the Polaris stand, I discovered three Victory machines and I asked for information. In early 2011 I ordered my Vision, a little crazy, knowing that there were very few dealerships in France.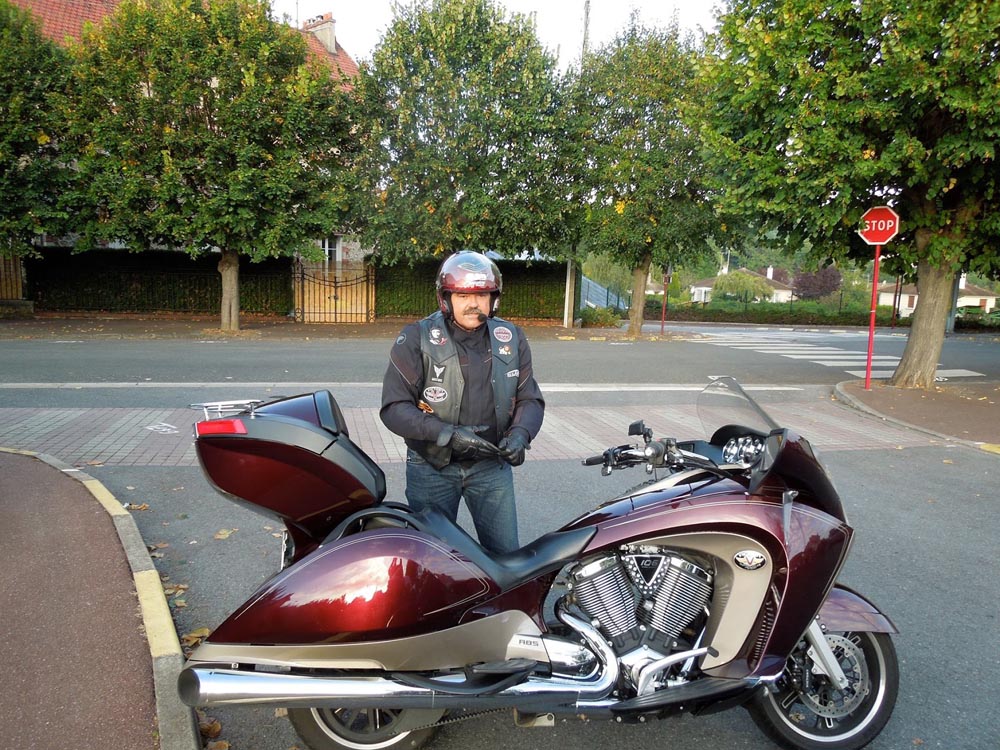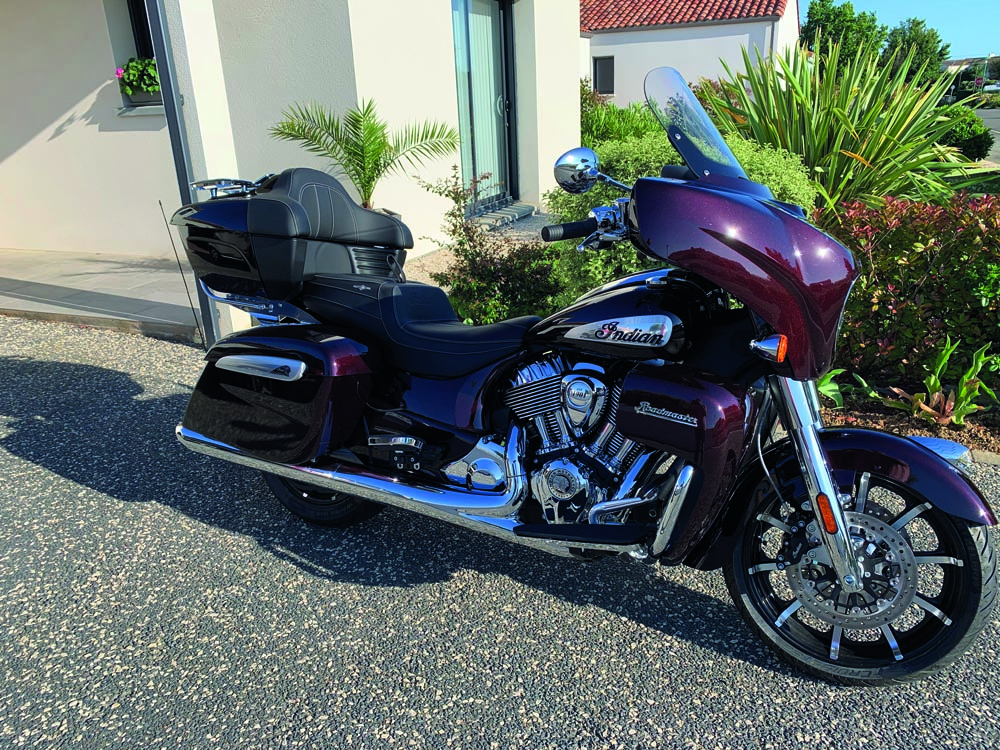 In 2014 my wife offers me a High-Ball for my departure in retirement. At the beginning of 2017, everything collapses, Polaris announces the stop of Victory. What a shame, but the bikes are very reliable, so I'm not worried. Last year, my wife and I, try a German bike, a Japanese, an American. For unexplainable reasons I stay faithful to the Polaris Group and chose a Roadmaster limited. We are going on vacation for at least 2 weeks with all the stuff that goes with it, 2/3 of which for the lady! That's why I need a comfortable bike, with volume and reliability and a great look. Take care and fair winds from my home place in Saint Gilles Croix de Vie.
ARNAUD - LUXEMBOURG
SCOUT BOBBER
Hello, what are three Indian fanatics doing on vacation in Thailand? Well, Julie, Jack and Arnaud turn their driver away when they come across the only Thai Indian dealership in Bangkok.
Obliged visit, purchases souvenirs and discussion with the Thai person in charge very happy of our visit. A beautiful break!
PETRA & ATILA - SLOVAKIA
SCOUT & CHIEFTAIN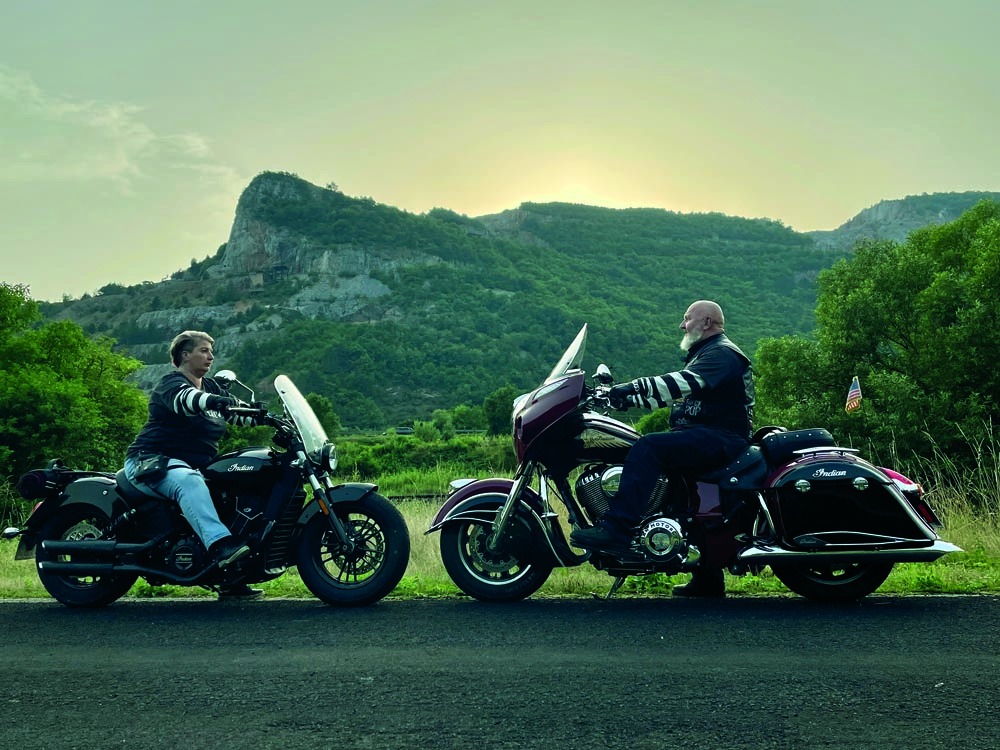 In 2015, I was walking with my family in a shopping center when we saw a Vintage Indian in willow green over ivory cream colour. It was beautiful but never thought a machine like this would be in our hands one day. We looked at it from every angle and left. A few months later, we discovered on the Internet that it was possible to book a test ride even in our country. We jumped at the chance. We drove more than 800 km to take a ride on it. After this test ride, the excitement was so great that we switched bikes. That's how our Indian Motorcycle era began. Today, we are totally in love with Indian. We even started an IMRG with our friends and our dealer. Indian Motorcycle has become our lifestyle.
IVÁN - SPAIN
SCOUT BOBBER
During my life I have owned many bikes and therefore many brands. But I have always had an eye for Indian. I read a lot about its history and I was sure that one day the brand would come back stronger than ever to take its place in the motorcycle world. History has proven me right. Just one year ago, I saw one of my biggest dreams come true, to own an Indian. This year I have ridden my Scout Bobber over 10,000 km, crossed the Pyrenees and even left the country. I managed to bring together my passion for photography and Indian here in a photo.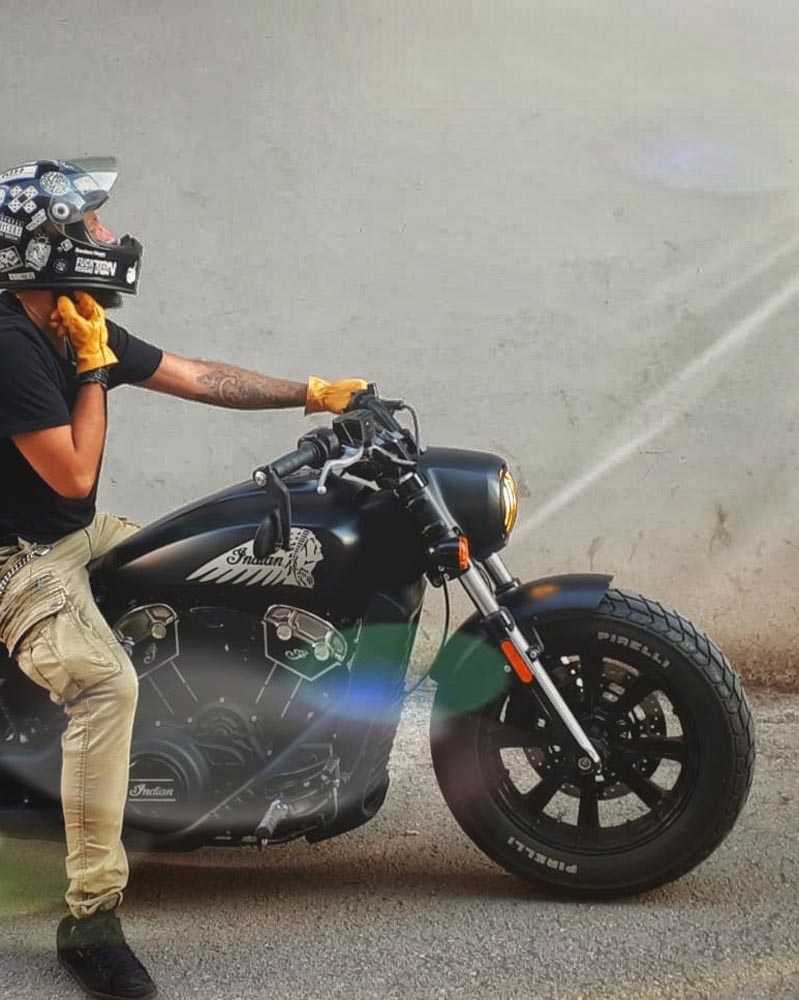 JEELAN KHAN - DUBAI
SUPER CHIEF LIMITED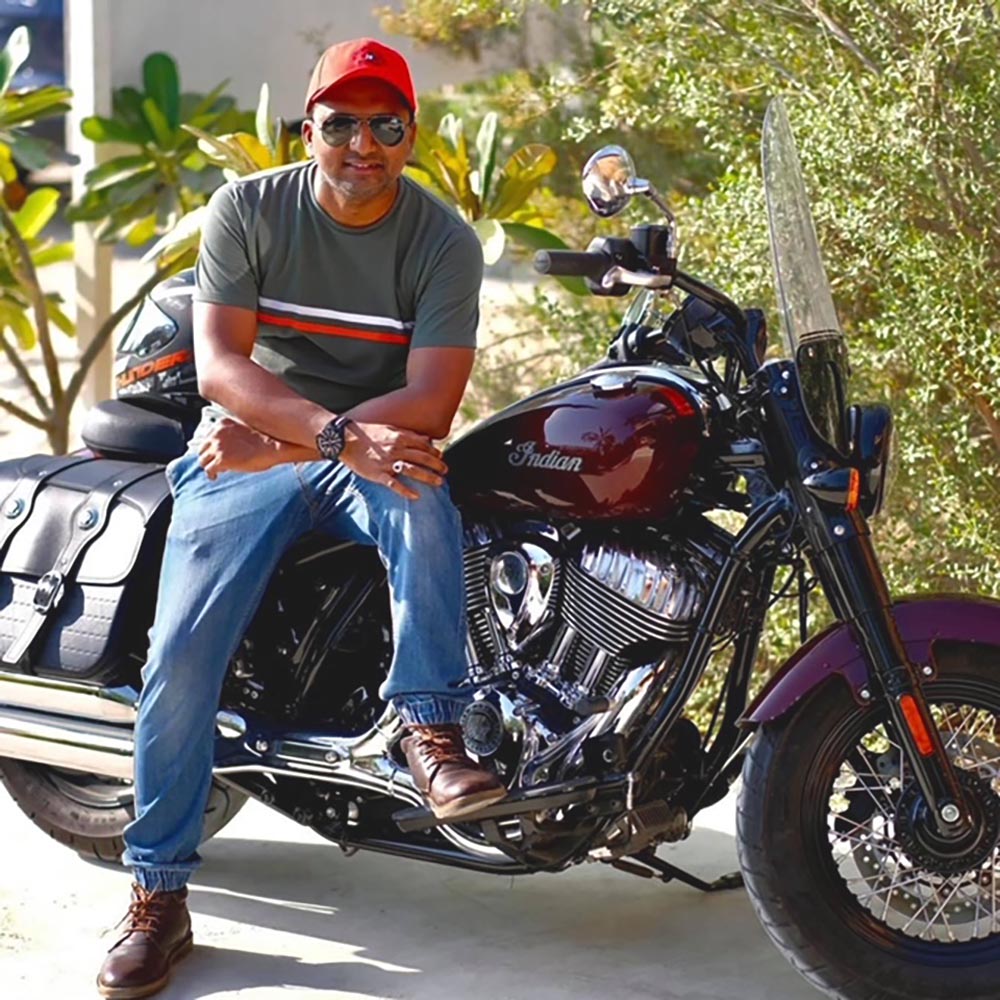 Four wheels move the body,
Two wheels move the soul.

PEDRO - PORTUGAL
CHALLENGER
Greetings from Portugal. Riding a motorcycle is more than a passion, it's a choice that comes from the heart, we stop seeing the landscape and start being part of it. Endless roads and curves, feeling the sun and wind on our face, going on an adventure to the unknown, celebrating the peace, adventure and freedom that the moment offers us.