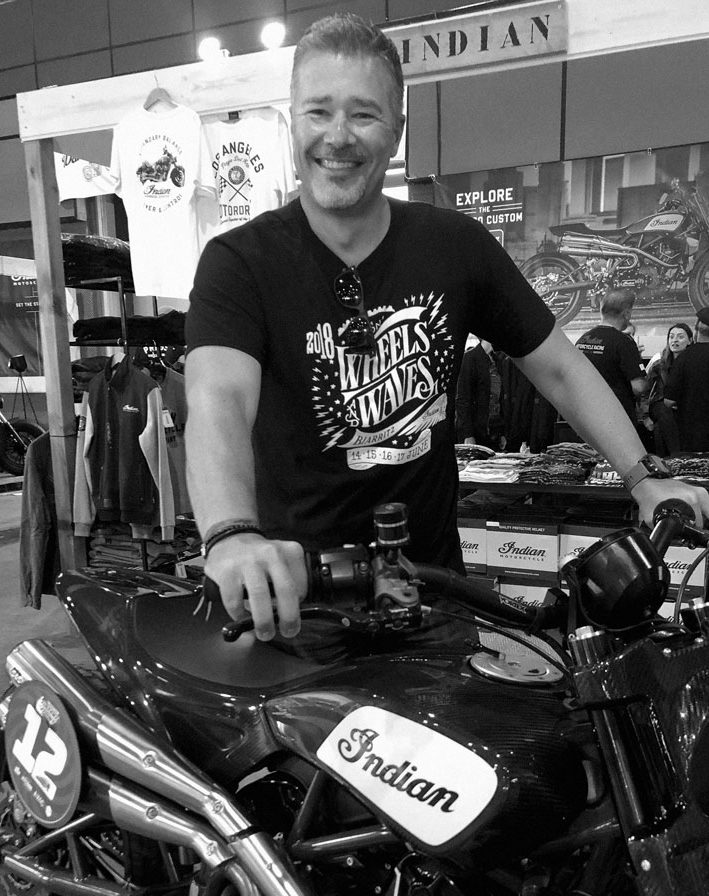 Grant Bester has been with the Polaris Group for over 8 years now and holds the position of Vice President International for Indian Motorcycle.

The athleticism of his character reminds us of his passion for sport and rugby, which he played in South Africa, where he is originally from. Motorcycles have always been a part of his passion, but he never expected to be running the motorcycle business for the International, after having spent most of his previous career in Medical for a Fortune 50 company.
Friendly, smiling, the handshake is firm and the conversation starts easily because of Grant Bester's natural curiosity and wide range of interests. Grant is appreciated for being very committed and involved on a daily basis. He is a hard worker, an active person, with a directness of speech, but always listening and open to discussion, as his team members acknowledge.
Grant Bester, how did your passion for motorbikes come about?
I was always inspired by anything with 2 wheels – road bikes, mountain bikes, then one day a friend let me try his KX250 (with a small crash course). 2 Weeks later I bought his bike and I was hooked ever since. I spent years after exploring all ends of South Africa on all sorts of motorcycles, one of my most inspiring trips covering a number of countries in the Southern African Region on a KTM 690. I have subsequently owned many different motorcycles and explored many countries on two wheels – Love the sense of adventure, the solitude but also the friendships established with the riders in our community.
Your initial professional career was in fields other than motorcycling, how do you end up managing Indian Motorcycle on an entire continent and beyond?
I got lucky and am very happy to be working in Polaris with Indian Motorcycle. I have had a diverse career, leaving university and starting my own business in professional Imaging. I later invested into a medical engineering startup and later transitioned into a global medical company as Vice President & CMO for the international region. I moved around the world with the company but my base was Switzerland. When the company decided to relocate from Switzerland, so some colleagues who had joined Polaris in the region put me on the trail. A job came up for which I was selected. I never looked back.
Your responsibilities involve you on several fronts, what are they and how is your mission organized?
My remit is for Europe, Middle East, Asia and Australia, New Zealand regions for Indian Motorcycle. We are focused on the operational aspects of the business (Sales, Marketing & Manufacturing) but we also work very closely with our colleagues across the globe on product needs and partnerships. We have a very experienced multi-lingual team in Switzerland who support the International region and of course a very passionate team in all regions. We are really focused on delivering quality product, real authentic messaging and are very proud of our riding community.
The International region has been a growth engine for Indian Motorcycle. This region now accounts for more that 1/3 of the global volume and our ambitions would be to grow fast and sustainably – but to keep the values that got us to where we are today. Europe is one of the biggest regions overall and almost every country is growing and expanding the dealer networks of which there are currently 300, over half of which are exclusive to Indian Motorcycle.
The brand was relaunched in 2013 with 3 superb models, today the range offers around 30 models including the 3 latest Chief models! What is your secret to moving forward so quickly against your competitors?
The global team are just amazing. There is a very entrepreneurial mindset in our company, we are all encouraged to plan well, move fast, solve problems and work as a team. Indian Motorcycle has been more than a passion to most people on the team. If you ride, love the brand, have a global mindset and are encouraged to "create" – only good things can come from this!
"FTR has been an amazing project.
Essentially we were going
out of our comfort zone…"
You were very involved in the launch of the FTR which took the brand into a new segment. In less than 3 years you have attracted a growing number of Roadster customers. What are the assets of this model?
FTR has been an amazing project. Essentially we were going out of our comfort zone and in a very short timeframe, developed a concept, created a new segment (or stretched existing ones), engineered one of the most exciting motorcycles on the market, went racing (and won almost everything) and then refined the platform to really appeal to European riders with a more street inspired FTR tracker. We have seen customers converting from almost all segments, Sport, Cruiser, Retro…. In my opinion, the geometry provides for comfort and control, the V-twin, torque and incredible character, the styling, unique and customizable – I don't think there is anything else on the market as exciting as the FTR !
In spite of the complicated period that the planet has been going through for the last year, how do you explain that Indian Motorcycle are so successful?
The last year has been complicated, for families, businesses, logistics and supply. It has been really hard to estimate the impact of Covid & consumer buying patterns, and during this period we also had to upgrade our platforms to EU5, and deal with many other challenges brought about by the health crisis. The great thing about Motorcycling is when you put on your helmet and start that engine, all the other problems, challenges and issues seem to disappear (at least for a while !). We prepared as well as we could have, we had very committed partners and dealers, our rider community really shared their passion with friends and families and many of us decided to enjoy our motorcycle more, with close friends in the past year. The last year has been challenging but our Motorcycling family had grown even stronger.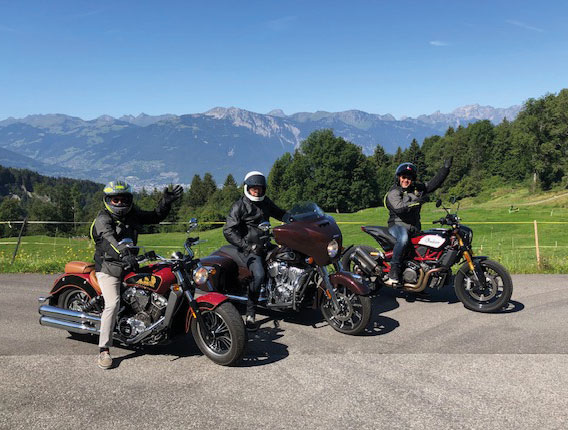 Tomorrow, you will have the choice to go away for a week, what is the road trip of your dreams and which machine would you choose to ride?
One of the reasons I love this job, I have managed to ride all over the world, USA, Middle East, ASIA, Europe, and always loved the diversity. I have to say that I still love the riding in Switzerland! We have some incredible mountain passes in the Valais (Furka, Grimsel) and not far off from there, Stelvio. I do have a weakness for good Italian food and wine, so often find myself riding over the Col du Grand St-Bernard for the windy roads and friendly restaurants. I can highly recommend a week in the Bernese Oberland, you will fall in love with the landscapes around Emmental, Thun, Wilderswil and surrounding areas
Any last words to add?
Great thing about my job is I always have friends coming to Switzerland to ride with me – I think my conversion rate is about 70% from other brands to Indian Motorcycle – any dealers need a sales guy?!!